Maybe We're Singing It Wrong (MWSIW)
The second CD produced by the Little Criminals.*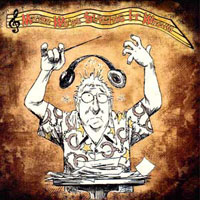 Disc 1

Maybe We're Singing It Wrong – Alan Vickers
Old Kentucky Home – Kymm Zuckert/Joan Manners
Gainesville – Steve Alleman
Dexter's Tune – Nina Kimbrough
Texas Girl – Suzanne Boer/Jeroen Smeets
Dayton Ohio 1903 – Jeff Pitet
Wedding in Cherokee County – Alys Dyke/Terry Shannon
You Can't Fool the Fat Man – Jim Moran/Alistair Kerr
Memo to My Son – John Betley
Memo to My Son – Dave Fox
Everytime It Rains – Alan Vickers
I Think It's Going to Rain Today – Kymm Zuckert
The Beehive State – Scott Downie
Kathleen/In Germany Before the War – Jim Moran/Alistair Kerr
You Can Leave Your Hat On – Todd Hepburn/Hoodoo Moon
PANTS – Gary Norris & the Minus 5
Let's Burn Down the Cornfield – Bruno Coon
God's Song – Hazel Quinn

Disc 2

Maybe I'm Doing it Wrong – Dave Fox/Tam Neal
Golden Gridiron Boy – Steve Alleman
Pretty Boy – Seb Angello
Suzanne – Jim Morin
One More Hour – Suzanne Boer/Jeroen Smeets
Everytime it Rains – Steve Bauer
In Germany Before the War – Alys Dyke
Feels Like Home – Steve Deasy
Love Story – Louise Rutkowski
My Life is Good – The Renegades
Lonely At the Top – Terry Shannon
Birmingham – Todd Hepburn/Hoodoo Moon
Jolly Coppers – No'am Newman
Ghosts – Alan Vickers
Old Man On the Farm – Scott Downie
When She Loved Me – Alys Dyke
James and the Giant Peach – Title – Nina
It Was Beautiful – Randy Newman
The Little Criminals' CD "Maybe We're Singing It Wrong" is a two-disc compilation of
songs and compositions written by Randy Newman and performed by his band of devoted fans, the Little Criminals.
How to order
Email Susan McTigue at semctigue at yahoo dot com
Crime Doesn't Pay
There is yet another Little Criminals CD — "Crime Doesn't Pay" — but it contains music not written by Randy Newman. For more information about that CD, please click here.
* Little Criminals are members of one of Randy Newman's support groups (a.k.a. "fan club").
You can join the ongoing online Yahoo! Groups discussion at
http://launch.groups.yahoo.com/group/randygroup/.