With songs that run the gamut from heartbreaking to satirical and a host of unforgettable film scores, Randy Newman has used his many talents to create musical masterpieces widely recognized by generations of audiences.
After starting his songwriting career as a teenager, Newman launched into recording as a singer and pianist in 1968 with his self-titled album Randy Newman. Throughout the 1970s he released several other acclaimed albums such as: 12 Songs, Sail Away, and Good Old Boys. In addition to his solo recordings and regular international touring, Newman began composing and scoring for films in the 1980s. The list of movies he has worked on since then includes The Natural, Awakenings, Ragtime, all three Toy Story pictures, Seabiscuit, James and the Giant Peach, A Bug's Life, and most recently, Disney/Pixar's Monsters University, the prequel to Monsters Inc. (which he also scored).
The highly praised 2008 Harps and Angels was Newman's first album of new material since 1999. The Austin Chronicle wrote 'the characters are memorable, the satire sharp, the music luxurious, and the arrangements maybe the most gorgeous in all pop music.'
The Randy Newman Songbook Vol. 2, which is the second in a series of new solo piano/vocal recordings of his songs spanning his five-decades, was released in 2011. Time Out New York said of the series, which will receive a third volume soon, 'The Songbook records strip away the orchestrations of his regular albums, leaving Newman alone at the piano, singing three-minute masterpieces from throughout a half-century career.'
That same year, Nonesuch Records released a live CD and DVD recorded at London's intimate LSO St. Luke's, an 18th-century Anglican church that has been restored by the London Symphony Orchestra, where he was accompanied by the BBC Concert Orchestra, conducted by Robert Ziegler. The 22-song set features some of his best-known songs like 'Short People,' 'Louisiana 1927,' and 'I Think Itís Going to Rain Today,' as well as newer songs such as 'A Few Words in Defense of Our Country' and 'Laugh and Be Happy.'
Randy Newman's many honors include six Grammys, three Emmys, and two Academy Awards, as well as a star on the Hollywood Walk of Fame. He was inducted into the Songwriters Hall of Fame in 2002 and the Rock and Roll Hall of Fame in 2013, the same year he was given an Ivor Novello PRS for Music Special International Award. Most recently, Newman was presented with a PEN New England Song Lyrics of Literary Excellence Award in June 2014.
---
Randy Newman Timeline
If Randy Newman's self-titled 1968 debut on Reprise Records, co-produced by his childhood friend Lenny Waronker and the now equally legendary arranger Van Dyke Parks, seemed out of step with the times upon its release, that's perhaps because he had created something timeless. Newman combined sophisticated orchestrations and indelible melodies with story-song lyrics that veered between the unabashedly romantic and the sarcastically humorous. A song like "I Think It's Going To Rain Today," its simple words harboring heartbreaking emotion, is arguably an American standard, covered by an astonishingly wide range of artists, including Judy Collins, Bobby Darin, Rick Nelson, Nina Simone, and, most recently, Nonesuch label-mate Audra McDonald. The albums that followed—12 Songs (1970) and Sail Away (1972)—are also regarded as classics now. The Los Angeles-born Newman spent considerable time in New Orleans with his mother's family during his childhood; his 1974 Good Old Boys is a masterful and controversial exploration of Southern culture, its history and ingrained prejudices, as well as the views and misconceptions of outsiders.
While Newman's initial record sales were modest, his reputation among critics, fellow artists, and musicians was huge, and he enjoyed great success as a songwriter. Former Animals keyboardist Alan Price popularized his work in England and Harry Nilsson did the same in the US with his still much-admired Nilsson Sings Newman. Three Dog Night had a pop hit with "Mama Told Me (Not To Come)"; Joe Cocker scored with the hilariously lascivious "You Can Leave Your Hat On."
Newman's own Top 40 success came with the most unlikely track, "Short People," from the 1977 Little Criminals. Not everyone got the joke—in fact, the Maryland legislature tried to make it a crime to play "Short People" on the radio. Other pop hits were in a similarly tongue-in-cheek vein: "It's Money That I Love" from 1979's Born Again and "I Love L.A." from 1983's Trouble In Paradise.
Over the course of 40 years, Newman has released 10 albums of original studio material, along with Randy Newman Live, originally designed as a promo-only item; a recording of his musical theater adaptation of Faust; and The Randy Newman Songbook, Vol. 1 a piano-and-voice retrospective that also served as his Nonesuch debut. Since 1981, however, with his score for Ragtime, Newman has been a prolific film music composer, a regular Academy Award nominee, and, in 2002, an Oscar winner for "If I Didn't Have You" from Monsters, Inc. Among his notable scores are The Natural, Parenthood, Awakenings, Avalon, Pleasantville and Leatherheads; Newman even shared screenwriting credit for the 1986 Steve Martin hit, Three Amigos! In recent years, he has specialized in composing for an impressive range of critically acclaimed, commercially blockbuster family films, including Toy Story, James and The Giant Peach, A Bug's Life, Toy Story 2, Monsters, Inc, and Cars. Though Newman projects the image of misanthrope in his own work, he summons tremendous warmth, tenderness, and a gentler form of humor in the songs he's created for these movies.
Newman is also a five-time Grammy Award winner, and the recipient, in 2002, of the Recording Academy's prestigious Governors' Award. He has also garnered three Emmys: in 2004 for the title theme to Monk, in 1991 for songs composed for the short-lived but well-regarded musical series Cop Rock and again for Monk in 2010 for Best Original Lyrics and Music for the song When I'm Gone which appeared in the series finale.
The enduring quality and emotional depth of his work are perhaps best exemplified by "Louisiana 1927," a song from Good Old Boys about a flood that devastated parts of Louisiana early in the 20th Century. Post-Katrina, the song was adapted by Crescent City artists like Marcia Ball and Aaron Neville as a kind of anthem, sung with as much pride as bitterness. The song became a leitmotif of the 2008 New Orleans Jazz and Heritage Festival, where Newman himself delivered a bravura performance.
—Michael Hill
---
On the title track of Harps and Angels, which opens Randy Newman's first album of all-new studio recordings since 1999's Bad Love, a man lies stricken on a New Orleans sidewalk, about to gasp his last breath. It's clearly the Crescent City, given the loose, jazzy shuffle the band is playing, Newman's languid drawl, and the laissez faire attitude of God himself when He appears to report that somebody up there had made a clerical error and the tearful guy on the pavement is not going to join his maker after all. That sets the tone for what follows: Harps and Angels boasts a deceptively easy-going quality even as it tackles matters of life and death, memory and loss, the discontents of the rich and famous, the problems of the poor, governmental malfeasance, corporate cynicism, and the veritable end of an empire – namely, our own.
The arrival of Harps and Angels was foreshadowed more than a year ago by a conversational number called "A Few Words In Defense of Our Country," which Newman developed during a summer 2006 tour of Europe, then slipped into his stateside sets. With a lilting country waltz as backdrop, Newman presents a caustic view of the state of our nation, ostensibly as a defense against foreign criticism. As incisive as it is darkly funny, "A Few Words in Defense of Our Country" caught the attention of The New York Times, which offered Newman space on its Op Ed page to print the lyrics. A wickedly effective digital single came next, including an eyebrow-raising verse about the Supreme Court that the Times censored. Rolling Stone named it one of the singles of the year, "right behind Jay-Z and ahead of Rihanna," Newman helpfully points out.
"I don't like writing songs that are right on the nose, Tom Lehrer-like songs, commenting on what's happening in the moment," Newman admits, "because songs like that will go away. This one will go away because this administration will go away, and we'll never have one quite like it. But I wanted to say something, so I did."
It turns out that Newman has a lot to say. "Piece of the Pie" is even more audacious social commentary than "A Few Words In Defense of Our Country" — a full-blown musical- theatre-style song that features orchestral backing arranged and conducted by Newman; a "patriots chorus," defending the honor of John Mellencamp for licensing a song to General Motors; and a tribute to the social consciousness of Jackson Browne. Says Newman, "It's an old-time sort of Industrial Workers of the World, socialist thing. The fact that you can work real hard and do all the country says you're supposed to do, and still not make it is a little surprising, you know what I mean? It's hard to get used to the fact that things are not getting better and better, that if you work hard and do what you're supposed to, it still might not work for you." The proceedings are briefly interrupted by a pair of bickering Belgians, proving that even the tiniest, prettiest places can be divisive.
The arrangements throughout Harps And Angels have a jaunty, Dixieland feel, with Newman on piano fronting a club-size combo, and he brings a touch of the blues to his vocals: "It's the way my voice sounds best to me at the moment, doing blues oriented stuff. That's the kind of singer I think I am." His orchestrations, featured on several tracks, are as gorgeous as anything he has produced on his film scores, and lend his misanthropic tales an improbably grand quality. With three of his uncles having been successful Hollywood composers, Newman says, "I grew up with maybe an inordinate love of the orchestral sound. When I was five years old, I was fifty feet away from the greatest musicians in the world, the studio guys. Guys I learned later were known worldwide. I had and still have enormous respect for my Uncle Alfred and the work he did. I'm not as good as he is with my film music – but no one else is either, so that's not something I have to worry about."
On "Laugh and Be Happy," he provides a prescription for the troubles of America's immigrant population, set to a madcap Charleston-worthy tempo. "Korean Parents" is more like an elegant ballroom dance, with kitschy Oriental embellishments; Newman takes on the sorry condition of American education by employing clichés about overachieving Asian students, and does it in such earnest fashion he's sure to offend just about everybody.
Newman contrasts the satire with a downright moving pair of ballads. "Losing You" is based on a story his physician brother recounted about a couple whose son was dying: "His parents had been in the camps during World War II. They said, we made it, we were able to get over the fact that we lost both of our families, but we don't have enough time left to get over losing our son." "Feels Like Home" is a proudly sentimental love song, a surprisingly heartwarming denouement to the album: "People are going to like 'Feels Like Home, it's going to be the most successful song on the album probably, because that's the nature of the world, even though I mostly choose a different kind of song to write, other than straight ballads. That's what people like me doing the best – songs 'Feels Like Home' or 'Marie' [from Good Old Boys], whereas my favorite songs are like 'Only A Girl' or 'Harps and Angels,' ones with characters, a cast, a narrator."
Harps and Angels was co-produced by Mitchell Froom and Lenny Waronker. Froom, whose credits include Crowded House, Los Lobos, and Sheryl Crow, first worked with Newman on Bad Love and returned for Newman's 2003 Nonesuch debut, Songbook, Vol. 1, voice-and-piano renderings of older, classic material. Says Newman, "Mitchell is a great musician and is enormously helpful at getting a basic track to really work. Finding a groove – that's not a word I like, but it's the only one there is. There definitely is such a thing but I wouldn't know what to tell a bass player or a drummer. Mitchell does that and he's enormously supportive in saying the right thing."
Waronker, former Warner Bros. head, is Newman's childhood buddy and life-long champion: "His instincts are better than mine, in some respects. He's always been, for me, the most crucial person to my career. When I was sixteen or seventeen, Lenny was my backbone. I was too shy to play stuff for people and he was always the first person — —in the first 25 years or so of my career life – —I would play things for. Lenny was always there with enthusiasm or a suggestion and a drive I didn't have myself, I wanted to be the best I could be, but Lenny wanted me to the best in the world, and I owe him a great deal."
On Harps and Angels, Randy Newman makes us laugh, gets us mad, cajoles us to think. He chronicles the ways we fall apart and catalogues the emotions that bring us together. Call it the soundtrack to our lives.
—Michael Hill
---
Stephen Foster. Aaron Copland. Irving Berlin. Cole Porter. George and Ira Gershwin.
Sadly, all of the serious competition is dead and buried, yet somehow Randy Newman lives and breathes among us. Hey, who said the world was fair? Sure as hell not Randy Newman.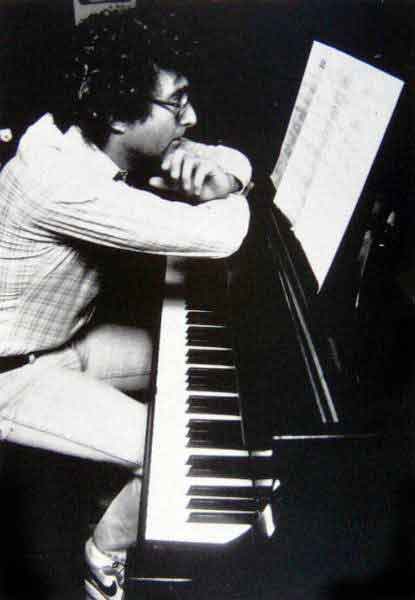 In addition to being one of our greatest American singer-songwriters and film composers, Newman long ago established himself among our sharpest and most caustic wits. Calling his inspired new album The Randy Newman Songbook, Vol. I seems like a curiously upbeat and straightforward act for this frequently wry fellow. "Yeah, it's not my style to look ahead with confidence," Newman confesses. "I'm basically asking for it with a title like that. Come to think of it, I could have called it something safer and more horrible like Looking Back At My Life, but I just didn't give it that much thought."
If it's not Newman's style to look forward with optimism, it's also not his personal preference to look back, whether in anger or in any other emotion. Yet somehow he still does so brilliantly on The Randy Newman Songbook, Vol. I, his illuminating first effort for the Nonesuch label. The eighteen-song set finds Newman singing and playing piano on powerful new solo versions of his early classics ("I Think It's Going To Rain Today," "Sail Away," "You Can Leave Your Hat On"), his more recent gems ("The World Isn't Fair," "The Great Nations of Europe") as well as a few examples of the Oscar-winning composer's film music (themes from Avalon and Ragtime, as well as "When She Loved Me" from Toy Story 2) and even a favorite stray obscurity ("Let Me Go," a song originally written for the 1972 Norman Lear movie The Pursuit of Happiness).
The resulting album is an intimate and powerful reminder of the enduring work that has established Newman as a songwriter's songwriter — one of the most musically and lyrically ambitious singer-songwriters ever to be at play in the fields of popular music. Characteristically, Newman offers no hype. "This was something I did at the behest of the record company really," Newman explains matter of factly. "It wasn't something I would have thought to do necessarily — memorialize my own songs. It's kind of interesting to me to do this project because it does play to history in a way, but in truth that's not as interesting to me personally as new stuff. I like writing new songs, though frankly I don't do that too much either. See I know these songs already but to do them in this way is not a bad thing. It's nice, actually."
"Nice" really understates matters considerably. In a very real sense The Randy Newman Songbook, Vol. 1 can be seen as the album of a lifetime. Here is Newman at the height of his musical powers working with producer Mitchell Froom — well-known for his work with Los Lobos, Richard Thompson and Elvis Costello, among others — to rerecord many of his finest and most lasting compositions. Newman and Froom cut thirty tracks to arrive at the final eighteen here. Even Newman was surprised at some songs that made the cut and others that did not. "Surprisingly, I always love playing 'Davy The Fat Boy' or 'Same Girl,' and they didn't make the album. While 'Louisiana 1927' doesn't interest me in playing it much, and yet these really were the songs that worked best. Some others could have been on here and weren't. We could have put 'I Love L.A.' or 'Emotional Girl' — and if we sell enough to break even and there is a Vol. 2, we will."
On The Randy Newman Songbook, Vol. 1, the artfully minimal and budgetarily-responsible stripped-down approach works wonderfully, with even Newman's most familiar material here appearing in a fresh, flattering light. The result is perhaps the purest distillation of the intelligent and unflinching artistry that makes Newman so unique and so worthy of such a serious retrospective. Rather than presenting the songs chronologically, Newman and Froom have sequenced them to make the album work as a musical whole. At times, The Randy Newman Songbook, Vol. 1 feels like a thematic song cycle. Towards the end, for instance, the sequence of "Sail Away," "The World Isn't Fair," "Political Science," "The Great Nations of Europe" and "In Germany Before The War" all together add up to something more than the already considerable sum of their individual parts. "Yeah, it's sort of the political section, if you'll excuse the expression," Newman says with a laugh.
Throughout The Randy Newman Songbook, Vol. 1, Newman's own piano playing is so sensitive and tasteful that the performances feel utterly complete. So how does Newman rank himself here as his only accompanist? "I had some complaints about his playing but not too many," he answers deadpan. Actually, Newman will admit to trace elements of pride regarding his fine vocals here. "It's all about practice — just having done it for so long," he explains. "Thankfully, Mitchell suggested a number of key changes so I wasn't croaking at people on songs like 'Marie' and 'Living Without You.' I think I sing better now which is one of the reasons I didn't mind doing this album. Singing's the kind of thing you get better at until you start your irrevocable decline. Now I have scheduled my irrevocable decline, but it's not for another couple of years."
So before the inevitable rot sets in, Randy Newman's own Songbook — call it Newman Sings Newman, if it makes you feel better — remains a winning and fitting way to celebrate or simply catch up with one of modern music's most compelling and distinctive careers.
Newman was born on November 28, 1943 into a famously musical family — his uncles Alfred, Lionel and Emil were all well-respected film composers and conductors. Even Randy's father Irving Newman — a prominent physician — wrote a song for Bing Crosby. Perhaps then it's no surprise that at seventeen Randy Newman was already a professional songwriter in own right, knocking out tunes for a Los Angeles publishing house. When his longtime friend Lenny Waronker helped Newman get a recording contract with Reprise Records, Newman dropped out of UCLA where he was studying music and one semester short of graduation. His orchestral 1968 debut Randy Newman was a slow seller — later something of a Newman tradition — but before long Newman's extraordinary and eclectic compositions were being recorded by an unusually wide range of artists, from Pat Boone to Ray Charles, Peggy Lee to Wilson Pickett.
Critics rightly raved about Newman's 1970 sophomore effort 12 Songs, and increasingly the public started to take notice with albums like 1970's Live (like Songbook, an opportunity to hear Newman playing alone), and even more so with 1972's classic Sail Away and 1974's brilliant and controversial Good Old Boys. Critics were struck by his musical depth and the literary quality and edge of his character-oriented lyrics.
With 1977's Top Ten Little Criminals, Newman experienced a huge left-field smash in the unlikely form of "Short People?" – a rare, strange and at times uncomfortable brush with full-blown pop stardom for Newman. Less surprisingly, Newman soon managed to successfully slow any annoying career momentum with 1979's Born Again — a decidedly barbed piece of work which pictured Newman on the cover in Kiss-styled make-up with a dollar sign on his face. How fitting for a dark piece of work that features "It's Money That I Love," a memorable comment on runaway capitalism that's now reprised on The Randy Newman Songbook, Vol. 1.
In the Eighties, Newman was dividing his time between film composing and recording his own albums, with the former work seemingly making the later efforts increasingly infrequent. In 1981, Newman released his exquisite score for Milos Forman's adaptation of E.L. Doctrow's Ragtime — earning him his first two of sixteen Oscar nominations for Best Score and Best Song. 1983 saw the release of Trouble In Paradise, while the next year saw the release of Newman's Grammy-winning, Oscar-nominated score for The Natural. Following some more film work, Newman finally got around to recording another studio album. 1988's Land of Dreams was another breakthrough work marked by some of Newman's most personal and powerful work yet.
In the Nineties, Newman enjoyed massive success with his film work, as well as winning a 1990 Emmy for his music in the pilot of Cop Rock. Amusingly and surprisingly to many longtime fans, the cutting social critic and sometime brilliant curmudgeon somehow found himself becoming a beloved children's entertainer thanks to his outstanding music for films like 1995's Toy Story, 1996's James and the Giant Peach, 1997's Cats Don't Dance, 1998's Bug's Life and 1999's Toy Story 2. Newman won three more Grammys for his work on A Bug's Life, Toy Story 2 and Monsters, Inc. Still, Newman also managed to play to the adult audience as well with his darkly hilarious take on Faust — the 1995 recording of which included performances by Don Henley, Elton John, Bonnie Raitt, Linda Ronstadt and James Taylor. Towards the end of the decade, Newman put out an impressive four-CD compilation, 1998's Guilty: 30 Years of Randy Newman and a strong new album for DreamWorks, 1999's Bad Love, Newman's first collaboration with Mitchell Froom.
In 2002, Newman finally won his first Oscar for "If I Didn't Have You?" from Monsters Inc. "The impact of the Oscar lasted about a day and a half," Newman says humbly. "Actually, now I'm getting these memorial awards now maybe more than I did. I just got the NARAS Governors Award and whatever the hell else they want to give me. I don't know that it's changed anything so much. It's really getting a reward for a minor kind of work of mine. It's not one of my best songs, but that's the way those things work. When I die, it will say 'Oscar-winner' in my obit, but then again every one of the songs on this album is better than that one."
This album — The Randy Newman Songbook, Vol. 1 — will be his first for Nonesuch. "It is an artier label," Newman notes. "I was speaking to some group and said, 'I think you have to learn the lute to be on Nonesuch.' But the thing is I believe they'll do a better job for me commercially. They'll pay more attention and sell more records for me. That's of interest to me, and the fact that they have a really interesting roster list. If I decide to write for them or use them musically in some way, they're around. Ultimately, I want reach more people. That's what I've intended all my life even though it may not seem that way."
So if The Randy Newman Songbook, Vol. 1 happens to cement Newman's place in the pop pantheon as its sells, Newman will just have to grin and bear it. "It bothers me if people think it's presumptuous to put yourself forward and demand that sort of comparison," he admits. "But I'm interested in how people hear this album. And it's not an unrepresentative bunch of songs. It's not necessarily the best of them, but it's good enough. We did em and we did em pretty well."
Randy Newman is more than a mere master of understatement — he is one of the real masters of modern American music. Put on The Randy Newman Songbook, Vol. 1 and take a listen to a master at work.
The preceding article was commissioned by Nonesuch for the release of Randy Newman's "Songbook, Vol. I." Free from all restrictions, it can be quoted at will.