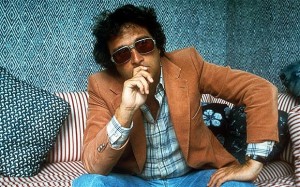 The New Orleans Times-Picayune published "Randy Newman plays an intimate house concert to benefit New Orleans Habitat for Humanity" on August 25, 2015.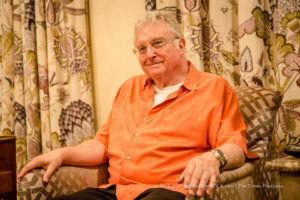 Tim de Lisle wrote this nice profile of Randy for the Sept/Oct 2015 edition of "Intelligent Life" magazine: "To Irony and Beyond."
Randy was on hand at Disney's D23 Expo 2015 (August 14th) as part of an introduction to the "Toy Story 4" filmmaking team. Here's the "Inside the Magic" writeup.
Randy performed at Pittsburgh's Heinz Hall on July 30, 2015 as part of the Pittsburgh Symphony's Thursday Night Icons Series. He talked to WESA about his career and latest projects. Randy's WESA interview
Randy chatted with Jimmy Fallon and performed two songs for the Tonight Show (March 3, 2014). To read a synopsis with video links, click here.
The LA Times reviewed Randy's performance on the March 3, 2014 Tonight Show. Read their rave here.
Randy participated in "The History and Future of Hollywood Film Music," a 2012 panel discussion on KPCC's AirTalk program. To watch the archived video, click here.
"Rørende Randy Newman i topform," a review of Randy's 2012 concert in Randers. Click here to consume!
"Randy Newman — review: Festival Hall, London," a review of Randy's 2012 concert in London. Click here to read!
"Randy Newman & A Steinway Is All We Need," a review of Randy's Austin City Limits Festival performance by the Houston Press. Click here to absorb!
"Randy Newman and the Sydney Symphony," a 2011 interview from the Sydney Opera House, is online. Click here to view!
"Randy Newman: The Return Of A Playful Icon," an July 2011 interview from NPR's WFUV, is online now. Click here to hear!
The Australian has an July 12, 2011 interview with Randy: "Just don't leave Randy Newman alone with his music." Click here to read it.
Filter focused on Randy from July 5th to July 8th (2011) with four Newman-oriented articles. To read Filter's work, click here.
Randy appeared on WNYC's Soundcheck on Wednesday, May 25, 2011.
NPR's "Dinner Party Download" hosted Randy on their Episode 100 (June 10, 2011) program. Randy's segment begins at approximately 11:40 in. To hear it, click here.
Randy was on Jimmy Fallon's program on Monday, May 16, 2011. Randy performed "Losing You" at the end of the program and performed "Short People" as a Web Exclusive.
The A.V. Club asked Randy specific questions about a number of his songs.
The A.V. Club also featured Randy in the May 19, 2011 edition of their "Gateways to Geekery" series: Randy Newman.
Randy has an audio interview with ABC Sydney about his upcoming orchestral concerts in Australia.
A blogger for the Phoenix New Times reviewed Randy's Memorial-Day weekend appearance at the Arizona Biltmore.
Randy chatted with the Huffington Post's Mike Ragogna.
Randy discussed "Losing You" for the Guardian's "How I wrote …" series. Click here to watch the video of his explanation and a performance of the song.
The UK's Telegraph gives five stars to "The Randy Newman Songbook, Volume 2." Click here to read the review.
Randy's interview with the BBC's "The Strand" is online.
Randy's interview with Kirsty Lang on BBC Radio 4 is online.
Randy is on Jools Holland's 30-minute "Later" BBC show in some regions of the globe.
Randy appeared on Jools Holland's 60-minute BBC show.
Read the Independent's review of the Songbook Vol. 2.